January 10, 2017
A Serious Shrimp Frittata
---
Give this serious Shrimp Frittata recipe a try! This dish will fit with your New Year's Diet!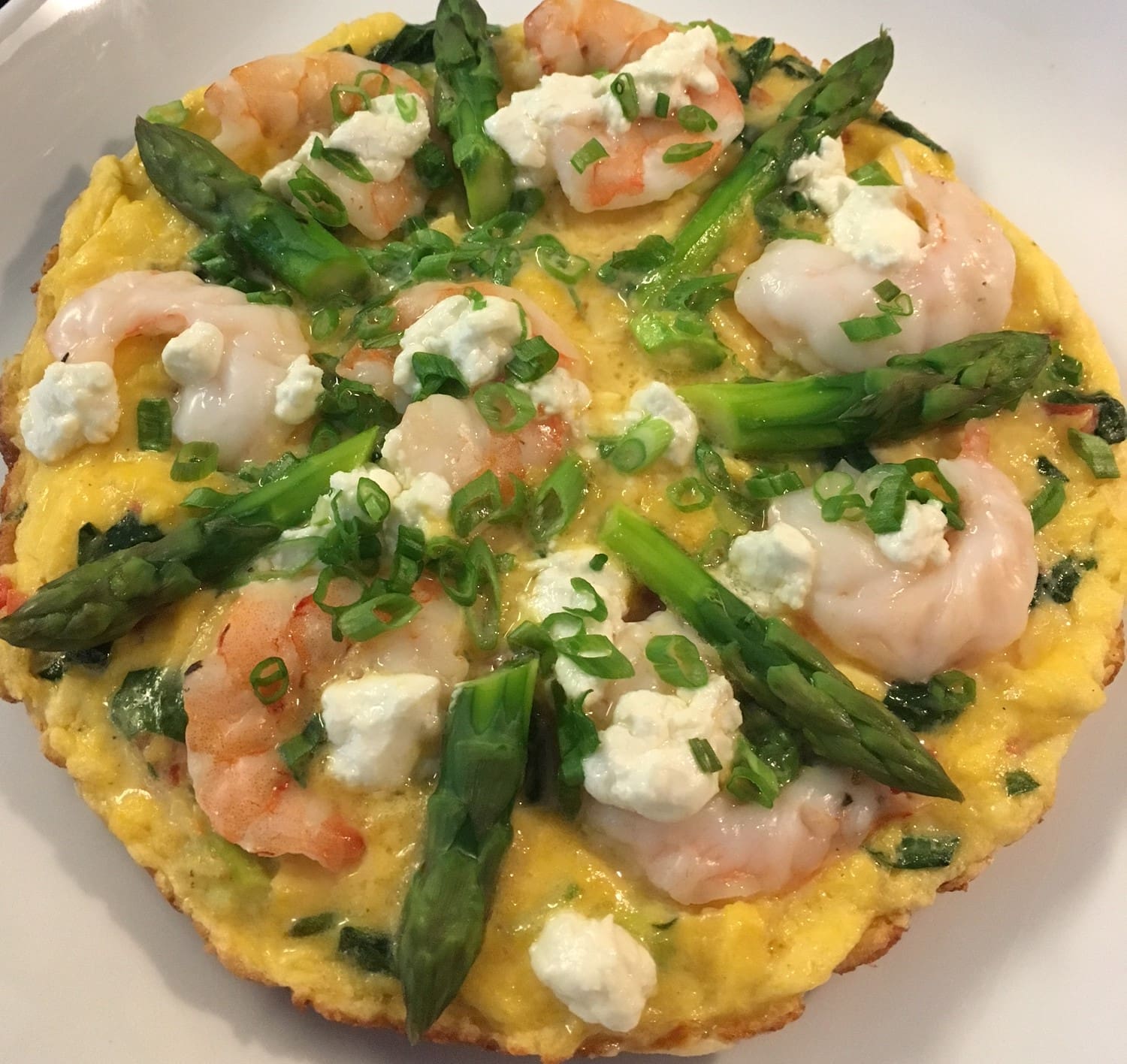 Shrimp Frittata with shrimp, asparagus, spinach and goat cheese
Makes 4 servings
5 large eggs
2 Tablespoon Greek yogurt
Spray bottle of canola olive oil blend
1/4 cup rough chopped spinach
1/4 cup diced tomatoes
3 asparagus, bias cut, reserve 1 Tablespoon of the asparagus tips for garnish, (see photo)
2 Tablespoons crumbled goat cheese
5 medium deveined shrimp, cut each shrimp in half lengthwise (10 pieces)
1 teaspoon chopped fresh chives
Preheat oven to 385F degrees. In a mixing bowl beat eggs with Greek yogurt.
Heat a large oven proof sauté pan over medium high heat and light spray with canola olive oil. Add the spinach, tomato and asparagus and sauté for 1 minute for spinach to soften.   Add the egg mixture to vegetable and using a heat resistant spatula gently arrange the vegetables around the pan. Use the spatula to lightly pull the egg away from pan into the center of the frittata.
Arrange the shrimp around the edge of the frittata and sprinkle in the goat cheese
Place frittata in oven and bake for 4 minutes, remove from oven and let rest for 3 minutes. Remove from pan and cut frittata into 4 servings. Garnish with chives.
Be sure to download the recipe card for this serious Shrimp Frittata dish via the link below.
Enjoy!
---